What Is Thinset And Why It It Hard To Remove
What is Thinset and Why is it so Hard to Remove?
There are many types of adhesives that keep tiles secured in their place, and one of the most popular examples is thinset.
Thinset (or thinset mortar) is made from a mixture of cement, very finely graded sand, and water retention compounds. This blend makes it more durable and flexible than other products because the cement is properly hydrated. It also allows the thinset to support a lot of weight, which makes it a good choice for buildings that encounter heavy foot traffic. At Tile Busters Houston, we understand tile removal. It is our business.
The Problem with Thinset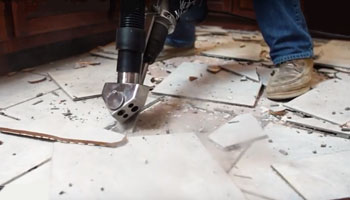 However, working with thinset is challenging and can seriously frustrate individuals who are using it for the first time. Unlike other adhesives, thinset isn't premixed so you have to blend it yourself before applying it to the floor. When it's time to replace the tiles, thinset presents itself as a problem once more because removing it is just as aggravating.
Due to its strong bond, you need special equipment and the expertise to properly remove it. Unfortunately, not everyone has the skill, tools, or experience to safely and completely remove tiles with thinset. If you force the thinset off the floor, you can potentially damage your property and the tiles. As a result, your tile remodeling or replacement project become unnecessarily expensive.
Let the Professionals at Tile Busters Handle Tile Removal
Fortunately, all of these problems can be avoided if you hire the professionals at Tile Busters for help. After all, our expert technicians have worked with all kinds of tiles and tile adhesives, so they know just what to do with thinset. Additionally, if you're planning to do anything with your tiles, it's better to let the professionals handle the project.
Not only will they finish the task on time, but they're also trained to:
Properly apply thinset on the floor and tiles
Blend the thinset mixture correctly to ensure it sticks
Clean up the mess after
With Tile Busters on the job, you don't have to experience any of the complicated work, so you can sit back, relax, and enjoy your newly tiled rooms once everything's done. When you need help removing thinset or removing tile in your Houston, Texas property, contact Tile Busters today.
Our company uses a dust-free tile removal method, which is easier and cleaner than conventional tile removal options. Just give us a call at 281-603-0006 or contact Tile Busters Houston online for more information about our services.