The Tile Busters Tile Removal System in Houston, Texas
Removing tiles is a difficult, time-consuming process that requires the proper tools and lots of preparation. Traditional tile removal methods typically produce lots of dust and frustration. However, the revolutionary Tile Busters System is a game-changer for customers in Houston and throughout Texas.
With the Tile Busters System, dust that would traditionally get on every surface of your home is caught before it becomes airborne. That eliminates the possibility of spreading unhealthy dust throughout your building via your ductwork. Even better, our Tile Busters System can complete up to 600 square feet of tile removal in a single day using our virtually dust-free method and our proprietary, state-of-the-art equipment.
That creates a healthier indoor air quality (IAQ) at your home or workplace for everyone involved. When you're planning to remove the tiles from your home or office in the Greater Houston Area, contact Tile Busters Houston to ensure that your tile removal process is the best & safest option available. For more than a quarter-century, Tile Busters has been setting the industry standard in the flooring & tile removal business.
Why our Tile Busters System is Better for Tile Removal in Houston, TX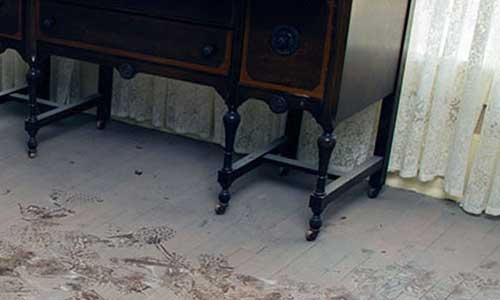 The Tile Busters System, developed over years of study, is a virtually dust-free tile removal method that is faster, safer, and more cost-effective than traditional tile removal options. This procedure ensures there are no dust particles generated throughout the entire tile removal process, providing a healthier indoor environment for your home or office and limiting the amount of clean-up time before you can install the new titles.
When your tile removal project is complete, the Tile Busters System leaves your concrete slab flatter and smoother, putting you in position for a more efficient installation at your home or office in Houston. Dustless tile removal also provides the following benefits:
Better Health & Better Indoor Air Quality
Traditional tile removal methods create clouds of dust. The floating particles damage your indoor air quality and are easily ingested or inhaled. This can cause a rash of health problems that include:
Asthma or allergy symptoms
Other respiratory ailments
Watery eyes
Coughing & congestion
Skin irritation
All of these issues are avoided, on the other hand, when you use the virtually dust-free Tile Buster System at your home or office in Houston.
Safer for Electronic Devices & Appliances
Dust, the primary byproduct of traditional tile-removal methods, winds up everywhere when it gets airborne. That includes your electronics, appliances and home systems. When dust covers and penetrates those delicate items, it can negatively impact their internal systems and cause them to malfunction. Replacing your damaged TV or kitchen appliance is expensive, so it's better to go virtually dust-free when it's time to remove & install tiles.
Maintains Consistent HVAC Performance
With virtually no dust being generated during a tile-removal job by Tile Busters, your HVAC system is safe from accumulating dust and airborne debris. That means no unwanted spread of contaminants and allergens throughout your home via your duct system. Our method also prevents your HVAC from being damaged by dirty, clogged filters that cause excessive wear & tear on the unit.
Faster Completion Times on Jobs
Because we've dealt with tiles for more than two decades, and created our own patented removal system, we know how to complete the task efficiently. A faster tile removal process grants you fewer inconveniences, allowing you to return to your normal day-to-day activities immediately.
Trust Your Tile Removal in Houston to our Tile Busters System
When you are ready to remove your tiles with our virtually dust-free method, contact Tile Busters at 281-603-0006 to get a free inspection and estimate. Our friendly operators are ready to answer any of your queries or concerns. We serve customers in Houston and throughout Texas.